How To Make a Custom Coffee Mug Using Sharpies
This would be a GREAT gift, on the WAY-super-duper cheap! You could decorate white coffee cups with red markers for Valentines day. Adorn them with hearts, cupid and funny or loving sayings.  They'd be great for Mother's day or Father's day too! Or, send a teen off in style with this custom graduation gift.
Every mom, dad, grandparent, aunt, uncle or friend could probably use another coffee cup.  How about a spot of tea with sentiments from a loved one?!  Yes, please!  You could make these for your volleyball or basketball team members, Hockey parents, as an office gag gift — or whatever strikes your fancy.
You can pick up cheap mugs at the Dollar Tree, or in thrift stores. I've seen them practically given away FREE at garage sales! Start collecting when you find them, and stock up on these blank canvasses.  Then you'll be ready when you need a quick, custom gift!
Here's what you'll need:
Ceramic mugs, preferably without designs (colors are okay!)
Permanent markers (such as Sharpie)
Or, if you want to get really wild use oil-based Sharpie pens (also known as paint pens or paint markers). They'll last a lot longer and be dishwasher safe! A few runs through the dishwasher and a regular Sharpie is likely to fade
Your imagination
An oven
Directions:
Gather up your offspring and arm them with a Sharpie (or any permanent marker). Get creative!  The only rules are you can't color your baby sister… again.
When their masterpieces are finished, bake them in the oven at 350 degrees Fahrenheit for 30 minutes. This will "set" the marker permanently in the ceramic of the cup!
Remove from oven and let cool.
CAUTION: Careful, the cups will be HOT!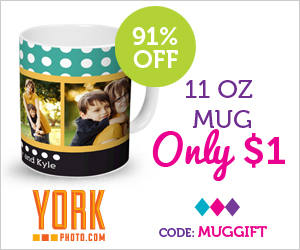 How's that for a thrifty gift?!!
For inspiration, here are a few funny sayings ideas for your coffee mugs:
Insert coffee to begin
Shhh! This isn't coffee!
Shhh! There's wine in here!
Shhh! There's whiskey in here!
A yawn is a silent scream for coffee
I'm sorry for what I said before my coffee
I'm a [insert occupation here], I need coffee!
OCD: Obsessed Coffee Disorder
Full / Empty (looks like gas tank)
Coffee before Talkie
My favorite coffee in the morning is when no one talks while I'm drinking it
I am silently correcting your grammar
I wake up awesome… but coffee helps
Organized people are just too lazy to look for things
Coffee: if you're not shaking, you need another cup!
Coffee makes me poop
Coffee: a hug in a mug
It only takes one cup of coffee to wake me up (it's usually the 4th one)
Caution ladies:  I may be hot!
Instant human: Just add coffee!
Instant sweetheart: Just add coffee!
Caffeine loading, please wait (with progress bar)
I love you more than coffee, but not necessarily before coffee